A Little About Us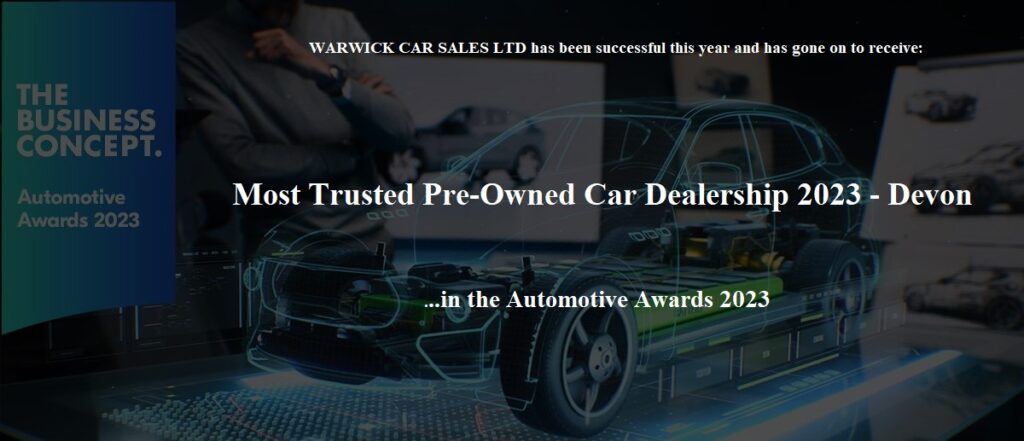 Hello and welcome to Warwick Car Sales of Exeter Limited.
At Warwick Car Sales Limited we take immense pride in 'Driving Standards Higher'.
We are a small family run business but we can provide you with many of the perks that main dealers offer,  at a fraction of the price!! There are no gimmicks, we simply believe in treating all of our customers in the same manner we would wish to be treated. It really is that straightforward – we are simply a genuine, hardworking and honest company who want to do what is best for you!!!
We are more than aware of the stereotypical views most people have of used car sales garages and to be honest a lot of these views have been obtained through bad experiences as there are a lot of unscrupulous people out there!!
We have recently been awarded the UK Transport Award for the Best Pre-Owned Vehicle Dealership in the whole of Devon for 2020!! A HUGE ACHIEVEMENT!
And recently 2023!!
We have also been voted as a 'Highly Rated' Dealership in the Autotrader 2019, 2020 Awards and again in the Autotrader 2021 awards with us receiving very high praise for our levels of customer service and aftercare.
We are also very proud to announce that Warwick Car Sales Ltd of Exeter has been awarded 'Car Dealership of the Year' by the South West of England Prestige Awards 2021/22.
As you will be aware, you cannot pick and choose the reviews you receive, so all of our reviews are unedited and genuine from many of our previous customers!! They all cannot be wrong!
We are very proud to be renowned at delivering and maintaining the highest levels of honesty, integrity and openness. Our entire focus is on you as a customer, ensuring you get the best car at a really great price! Unlike many dealerships, our job does not end when you have purchased your vehicle. Aftercare and total customer satisfaction are issues we take very seriously and we are always there to help, especially after you have purchased your car!
Hopefully the high volumes of 5 star feedback in our reviews section (Facebook, Google, Autotrader, Motors….) from our many satisfied customers (450+ 5 Star Reviews and rising rapidly) will go some way to showing you just how much we pride ourselves on the cars we sell and the service we provide, always putting you first and at the heart of everything we do!!
We take immense pride regarding our levels of honesty, integrity and openness.
Hopefully the feedback from our many satisfied customers across websites such as Autotrader, Google, Facebook and other totaling 450+ – 5 Star reviews will demonstrate just how much we pride ourselves on the cars we sell and the service we provide, always putting you first and at the heart of everything we do!!
If this is not enough, we have also won the Autotrader 'Highly Recommended' Award 4 years in a row and have recently been voted 'The Best Pre Owned Vehicle Dealership in DEVON!' by the National UK Transport Awards.
All of our cars are sold with a minimum of 6 months COMPREHENSIVE WARRANTY. We can also extend warranty at heavily discounted prices exclusively for our customers.
We provide discounted servicing, MOT's and Tyres on any vehicle you buy from us to ensure total aftercare for the time you own the car!!
We simply and sincerely believe in total customer satisfaction, not just whilst purchasing a vehicle, but also the really important part of ensuring you are cared for after you purchase, year upon year!! Many of our clients are repeat customers due to the way they are treated and we are very lucky to end up calling them our friends!!
We have total confidence in the cars we sell! You will never get a hard sale from us, we will simply help you anyway we can and answer any questions you may have and leave you with the car so you can really check it over without anybody standing over your shoulder.
We like to think the cars we deal in, simply sell themselves, being great quality cars at a great price!!!
All our cars are fully HPI clear and undergo an extensive 105 Point vehicle safety check prior to going on sale.
We personally hand select our cars and only having a small stock allows us to totally focus on the cars we have, ensuring that anything they need to get them ready for our customers is completed and that you drive away with total piece of mind.
We work exceptionally hard for you and always go the extra mile, so you don't have too!!